We offer - metal work, welding, press work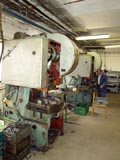 Both companies have their own car fleet and machinery, namely metal plate scissors, folding press, eccentric press (40 and 63 t). In 2008, a new eccentric press of up to 100 tons of pressure was purchased. As far as locksmiths are concerned, the company offers band saws, abrasive-band grinding machine, drilling machines, screw-cutting lathe, welding units utilizing MIG/MAG method, etc. Transport, loading and unloading is provided by the companies´ vehicles and lift-trucks.
FEJAS CZ s.r.o. has been focused on the production of steel components used for the realisation of temporary as well as permanent traffic signs. Due to a cooperation with specialized in the traffic signs production, present assortment samples have been produced; these have been adjusted and upgraded up to the current form. All of the products meet specified norms designed for appointed purposes.
Another significant part of our production is locksmithery and tool making that are realized for prominent engineering companies in the Moravian-Silesian region. We also provide municipal authorities with contents of offices that are often tailored.
A complementary production of our business deals with artistic locksmithery. In cooperation we arrange the production of tools and their final surfacing such as powdered paint (komaxit), hot spraying galvanization, nickel plating, black finish, etc.