Textil production - quilts, pillows, bed linen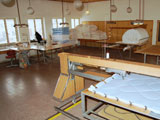 In November 2008, we renewed textile production. We specifically sew quilts, pillows, bed linen and bed sheets. For these we use materials from Czech suppliers, regarding bed ticking or cushioning material.

For fillings we use MERINO web carded sheep wool or branded web carded hollow fibre. For pillow fillings we use hollow fibre balls or sheep wool. Pillows filled with hollow fibre are equipped with a zipper, which enables an amount of filling to be added or taken out according to the customer´s wishes. This also enables the customers to check the quality of the filling.

Bed linen is made of 100% cotton in several variants: standard cotton, crepe, flannel and cotton satin. Bed sheets are also made with materials from Czech suppliers, and all of them are equipped with a zipper.

You can buy all our products in the ground floor of "PASÁŽ" department store (Dolní náměstí, Opava) or in our e-shop.

Products maintenance: In accordance with law, all our products are fitted with washing symbols that state the washing methods possibilities. It is forbidden to wash products made of sheep wool; these may be dry-cleaned only.